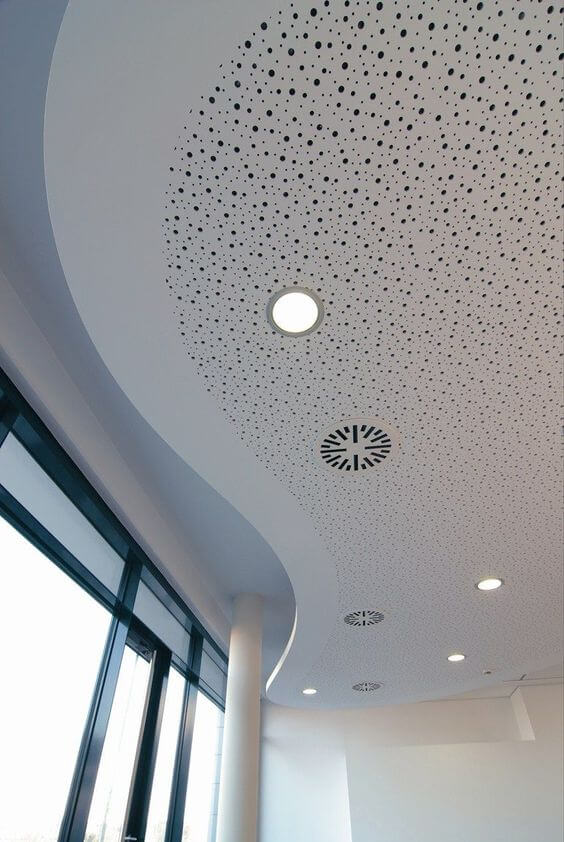 Rigiton ceiling system in addition to great aesthetic effect also achieves excellent sound absorption.
Rigiton Ambiance is acoustic panel. It has standard perforated patterns, but with the ability to offer not only absorption of noise but also and air purification. Investigations of "Institute for Environmental Protection" have shown that in a short period of time these boards reduce as much as 90% of formaldehyde in air.
Permanent air purification is achieved by using natural minerals and silica mixture which absorbs harmful substances from the premises.
Rigiton ceiling price
Price is determined per square meter of covered area. Click here to see prices. We are open to all kinds of agreement and cooperation. Send an e-mail on info@bekostyle.com or visit our contact page for detailed information.
Rigiton System Features
– Reduce standing waves in room
– Absorb sound waves
– Easy installation and mounting
– Purifies and filteres air
– Environmentally friendly materials
Usage
This system is best used in the premises and business offices where a large number of people works in the same time such as customer services, showrooms and trade fair stands, banks or offices.
Pricelist
See pricelist of rigiton ceiling here and for full details please contact us by e-mail or by phone.